The Diamond Bus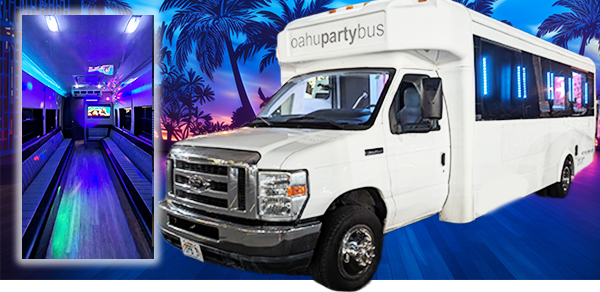 * A $200.00 non refundable deposit is due at time of booking confirmation.

*All bookings are not confirmed until availability is checked by our office staff. If the rental time requested is not available you will not be charged a deposit and someone from our office will contact you.
*Additional drive time may be added depending on pick up & drop off locations*






Introducing the newest member of the Oahu Party Bus team, " The Diamond " we all heard the saying, "Diamonds are a girls best friend" Well here it is ladies (and gentlemen) the custom 14 passenger bus that you all been waiting for! From the moment you step on this custom designed beauty you`ll be amazed at the laser lights on board along with the custom wrap around seats, not to mention the mini bar and 50,000 watt sound system, an a/c system that will keep you cool and comfortable, beautiful wood floors, black out tint for privacy and last but not least the best drivers in the business!!!! Top that off with a price that's fair to great! Call our office immediately and see what I'm talking about! Party hard and get home safe with the Oahu Party Bus!!!!