Mini Golf Adventure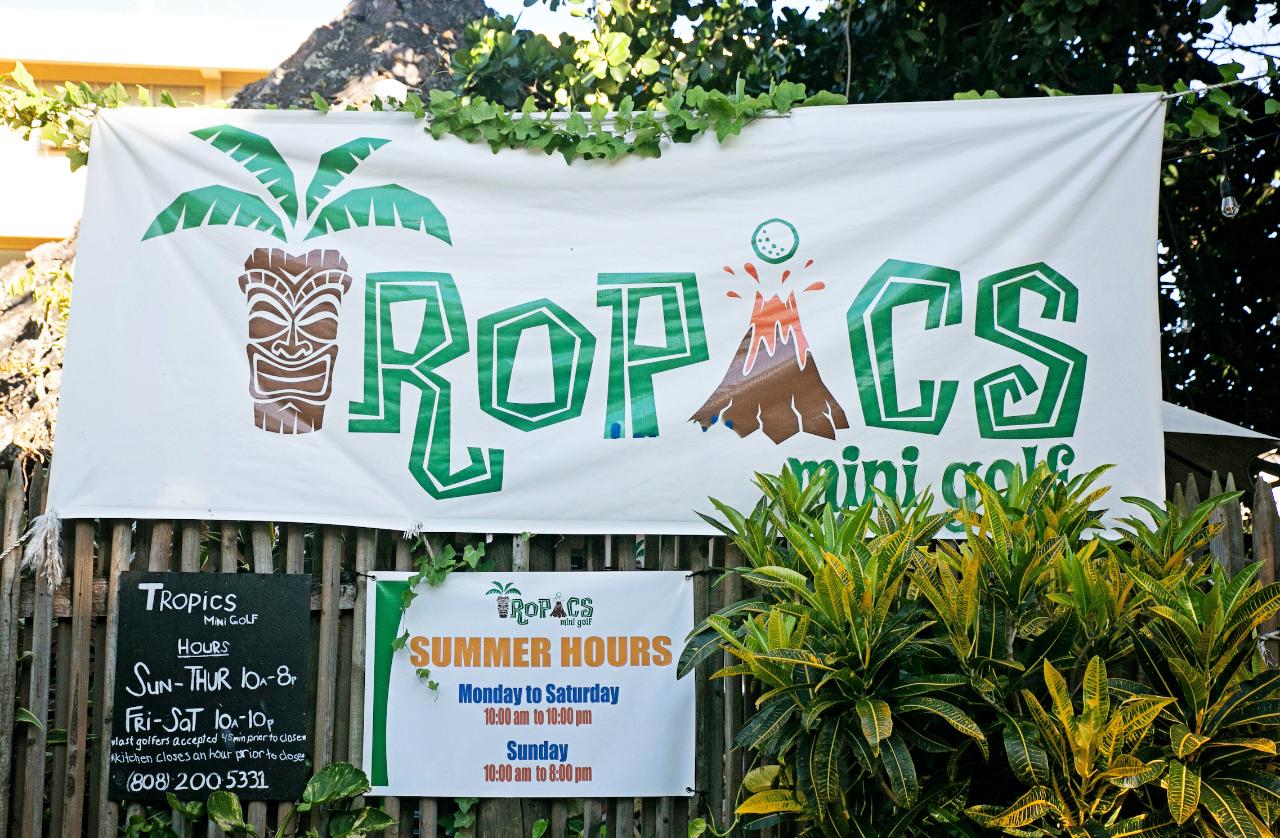 Duration: 5 Hours (approx.)
Product code: minigolf
How it works:
Your special day will be starting off wherever you choose, whether it be at your home, mall, park or the location nearest you!

Then you`re off! You and up to 20 of your favorite family and friends will be headed to TROPICS MINI GOLF IN AIEA!
When you get to TROPICS everyone will be able to play as many rounds of mini golf as you choose within the 60 minutes of play time
There is a total of 18 holes that is perfect for the beginners and the pros. After everyone has enjoyed themselves on the course
there will be Pizza waiting on your very own reserved picnic tables. Once everyone has played and ate the Bus will be
waiting outside to take your party to DAVES ICE CREAM AIEA. There will be an Ice Cream Cake waiting with Happy Birthday or
Congratulations or whatever your celebrating. Along with the Amazing Ice Cream Cake everyone will get an Ice Cream Cone or Cup
of their of their favorite Daves Ice Cream. Once your tummies are full from the Pizza and Ice Cream the bus will return everyone to
the original destination.
What exactly to you get?
Up to a 20 passenger Oahu Party Bus

Bus will be decorated with streamers, balloons, a Happy Birthday or Congratulations Banner
Soft Drinks which includes 20 bottled waters, 10 mixed juice, 10 Pepsi
Snacks such as 20 bags of chips and 20 cookies
Admission to Tropics Mini Golf for up to 20 players ( 1- hour of golf time and 1- hour to have lunch)
Four Large Pizzas from Pizza Hut or Papa Johns
One Ice Cream Cake with Happy Birthday or Congratulations with candles from Daves Ice Cream
20 tickets to redeem for an Ice Cream Cone or Cup at Daves Ice Cream
20-100.00 gift card to Oahu Party Bus that will be handed out to each person on the Bus for future use
How long does it last?
Times will vary depending on starting pick up to final drop off locations, but on average 4-5 hours.

Is an adult required to be on the bus?
Yes, atleast One Adult must be with the party at all times
Is there an age limit to be on the Bus?
No, as long as there is an adult accompanying the party
How much does it cost?
Cost with everything as stated above including tax: $1445.03
What is required to book our Oahu Party Bus and Tropics Mini Golf Adventure?
A minimum of 200.00 non refundable deposit is required to book a reservation, the balance can be paid anytime up until the day of your event
You can book your reservation directly through our website or call our office Monday - Friday 9am-6pm.