Friday Night Fireworks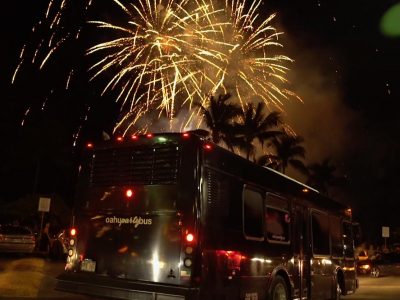 Duration: 5 Hours (approx.)
Product code: FIRE
How it works
First off the Biggest most popular Party Bus company in the State shows up to your perfectly planned location, it is fully decorated with balloons, streamers, Happy Birthday Banner, Congratulations, Sweet 16 or whatever the occasion. The Bus is also stocked with soft drinks, snacks and Pizza! We`re just getting started! Once everyone boards this awesome machine, the lights are flashing, the sound system is slamming, its nice and cool and everyone`s ready to have an amazing night. And were off, headed to the Hilton Hawaiian Village to see some Fireworks! Once we get there, we`ll find the perfect spot, everyone can eat, drink, listen to their favorite music and enjoy one anothers company while y`all sit back, relax and enjoy the Fireworks show. Once the final bomb goes off and everyone cheers the bus will cruise through Waikiki and Diamond Head while everyone can dance the
night away on your very own Club on Wheels! What`s next? The party heads for a cruise down to the Best Tasting Ice Cream in the STATE!!!! Dave`s Ice Cream in Aiea! Once everyone departs and walks into the Ice Cream Parlor you all will be greeted with an AWESOME ICE CREAM CAKE (chocolate or vanilla) that says Happy Birthday-Congratulations or whatever event you all are celebrating. Everyone will also receive a ticket to redeem their favorite Ice Cream Cone or Cup. When everyone`s belly is content the bus will part and take everyone back to the original pick up location.
What exactly do you get?
A 20 passenger Oahu Party Bus
Bus will be decorated with Streamers, Balloons, and a Banner that says Happy Birthday or Congratulations
Soft drinks which include 20 Bottled Water, 10 Mixed Juice and 10 Pepsi
Snacks which includes 20 Bags of Chips and 20 Bags of Cookies
4 Large Pizzas from Pizza Hut or Papa Johns
1 Ice Cream Cake with Happy Birthday or Congratulations written on it
20 Tickets to Redeem for an Ice Cream Cone or Cup at Daves Ice Cream
20-100 Dollar Gift Card to Oahu Party Bus for future use
How long does the Fireworks Adventure Last?
Times will vary depending on the starting pick up and final drop off locations, average is 4-5 hours
Is an adult required to be on the Bus?
Yes, atleast One Adult is required to be on the bus
Is there an Age Limit to be on the Bus?
No, as long as there is atleast One Adult on the Bus at all times
Is alcohol allowed on the Bus?
Yes, as long as everyone on the Bus is legal Drinking age
How much does it cost to Experience the Friday Night Fireworks?
Total cost including Tax 1335.08
What is required to Book the Friday Night Fireworks Experience?
A minimum 200.00 Non Refundable Deposit is all you will need to reserve your bus, the balance can be
paid any time up until you board the bus, you can book directly through our website or you can call the office
during normal business hours Monday-Friday 9am-6pm